NMEC, Gate 1, Drawdock Road, London, SE1O OAX
Telephone 020 8293 8600 Facsimile 020 8293 8700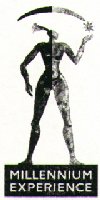 O5 January 2001
Owen Barritt
Pembroke College
Cambridge
CB2 1RF
Dear Mr Barritt.
Thank you for your letter requesting further information about the future of the Millennium Dome and related assets.
Company law and Government regulations require the Directors of NMEC to obtain the best value for The company's assets. Henry Butcher will be handling NMECs sale of assets and are specialised international auctioneers.
A public auction is scheduled to take place at the Dome site from 27th February to 2nd March 2001.
Details about The auction are available on the Henry Butcher website. www.dome.auction@henrybutcher.com This website will be online from Wednesday December 20th and will initially be an introduction to the auction sale. Specific details will follow mid January and a catalogue of the assets will be available in February.
Further information will also be available via press and media coverage closer to the date of the auction.
Thank you for the interest you have shown in the Millennium Dome.
Yours sincerely
Andrea Evans
Visitor Enquiry Unit Manager
Time to make a difference The New Millenium Experience Company Limited Registered in England No. 3113928 Registered Office NMEC, Gate 1, Drawdock Road, London, SE10 0AX
---